Our environmental policy is to aim that our business and products will have a minimal environmental impact.

We will focus on environmental issues by pursuing continuous improvement, working preventively and comply with relevant environmental legislation.

We will continuously work to reduce the use of raw materials and energy as well as to strive for effective waste management. We shall also minimize the environmental impact of transport caused by our operations and select, if possible, environmentally friendly raw materials for our products.

We will achieve this by:
Comply with the requirements of ISO 14001, as well as continuously control, measure, and evaluate our environmental impact
Measuring, control and streamline our transportation
Prioritize the use of environmentally friendly materials already in the development phase
Activate and engage the staff in our environmental work
Our environmental work is conducted within the limits of what is technically and economically feasible
Always keep environmental awareness alive in the company.
We have a goal program for environmental work.
We are constantly working to improve.
We evaluate our suppliers for their environmental impact.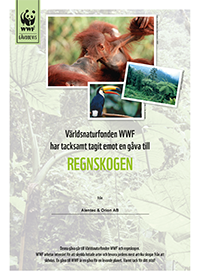 Due to the difficulties in obtaining an exact figure for our emissions in connection with business trips, we have chosen to compensate for the climate by making a contribution to the World Wide Fund for Nature and their project to save the rainforest.